The Jefferson Project
Monitoring Harmful Algal Bloom on Skaneateles Lake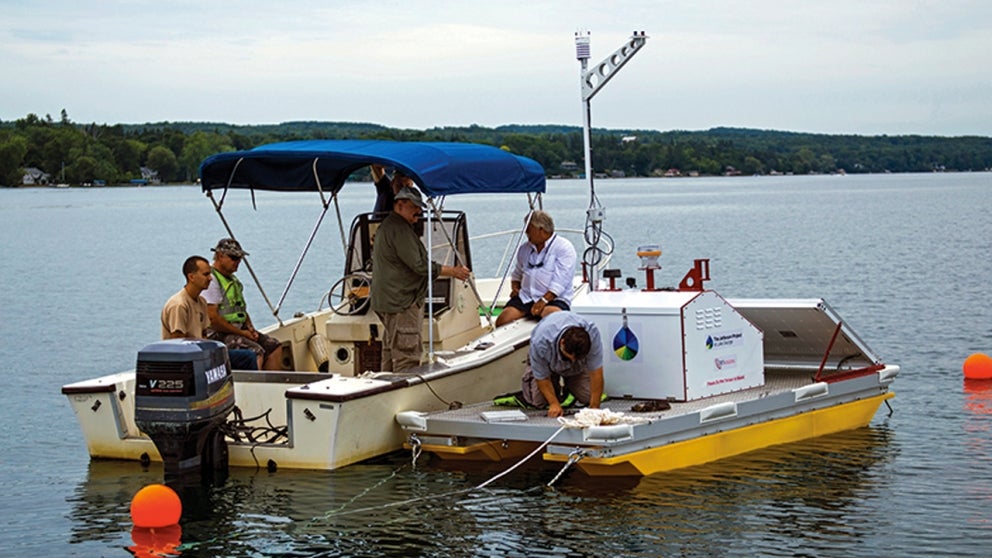 "

The Jefferson Project is pioneering a new approach and new tools that pinpoint the cause of threats to freshwater.

"


— President Shirley Ann Jackson
The world's most advanced environmental monitoring system — developed through The Jefferson Project at Lake George — is being used to understand and protect Skaneateles Lake, a central New York drinking water source now threatened by toxic algae. Building on a connection through the New York State Harmful Algal Bloom (HABs) Initiative launched in late 2017, the Jefferson Project installed a custom-designed robotic sensing platform on Skaneateles, and began collecting data just prior to an early-August HABs event this year.
The Jefferson Project at Lake George is a partnership between IBM Research, Rensselaer, and The FUND for Lake George that combines advanced technology with science and advocacy to understand human impacts on freshwater and address the world's looming freshwater supply challenges. The sensing platform, called a "vertical profiler," is part of a four-month pilot project the Jefferson Project has undertaken in cooperation with the Skaneateles Lake Association and the Upstate Freshwater Institute.
"The ability to protect the natural resources of our planet, with freshwater vital among them, is one of the greatest challenges we face collectively across the globe," says President Shirley Ann Jackson. "The Jefferson Project is pioneering a new approach and new tools that pinpoint the cause of threats to freshwater and empower policymakers to enact solutions backed by the insights of science. We are pleased to offer the advanced technology of the Jefferson Project to local researchers working to protect Skaneateles Lake."
Knowledge gained during the pilot project will aid Skaneateles Lake, while informing local and regional groups on Lake George and other Adirondack lakes seeking to prevent or react to harmful algal blooms. The Jefferson Project will collaborate with Skaneateles-area academic and government researchers, supported by the unparalleled data collection and modeling capabilities the Jefferson Project has developed.
Since late July, the vertical profiler has been collecting environmental data, including measurements of weather, circulation, and water quality, and includes sensors capable of detecting phycocyanin, a pigment present in harmful algae. In collaboration with Skaneateles Lake regional experts, Jefferson Project researchers are in the process of analyzing a limited amount of data that was collected in relation to the 2018 HAB occurrence.
"The Skaneateles Lake Association is thrilled that the Jefferson Project from Lake George has deployed a vertical profiler buoy on Skaneateles Lake to support and enhance the important monitoring already in progress as part of our effort to help protect Skaneateles Lake," says Paul Torrisi, president of the Skaneateles Lake Association.