Undergraduate Education
Rensselaer Introduces First in the Nation "Data Dexterity" Requirement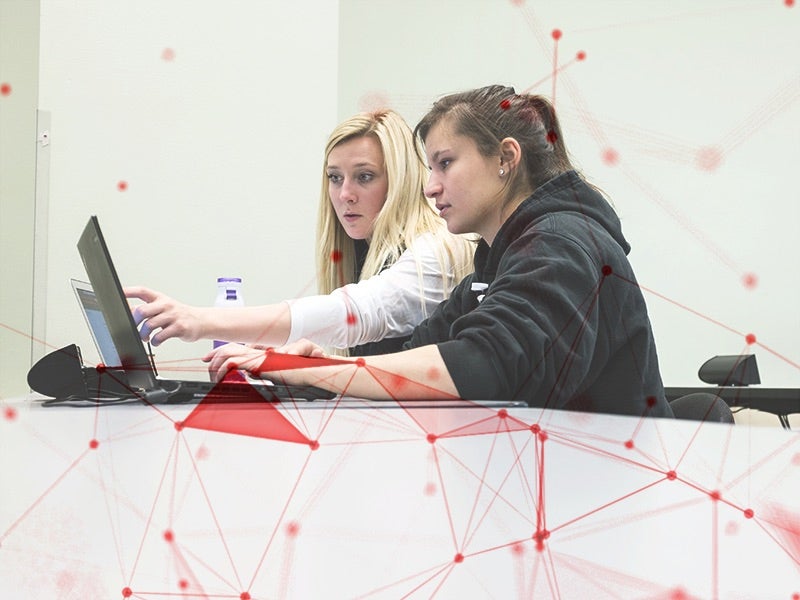 "We educate our students to be leaders in whatever endeavor they seek to pursue, and dexterity in handling large and diverse datasets will be a critical component in their success."
— Prabhat Hajela
Data is a critical building block of a fast-approaching future, and Rensselaer is ensuring that all of its students are adept architects with the adoption of a new institutewide requirement in data education. The requirement, the first of its kind in the nation, will propel all Rensselaer students beyond the current collegiate standard of "data literacy" to "data dexterity" — proficiency in using diverse datasets to define and solve complex real-world problems.
The data requirement is part of an updated core curriculum — the common academic and non-academic elements that all students must complete to graduate — that reflects the skills and capabilities graduates need to be tomorrow's global leaders and problem-solvers. Data dexterity is a critical piece of that equation. A 2017 market analysis from the Business Higher Education Forum calls for annual job openings to rise steadily to 2.72 million postings for data science and analytics roles in 2020.
"Our future is increasingly data-driven, and successful leaders must be able to harness the power of data in solving the problems they tackle," says President Shirley Ann Jackson. "Key elements of that data dexterity are an ability to leverage data to make decisions, to understand the difference between causation and correlation, an understanding of ethical use of data, and how to visualize complex data in ways that emphasize key mechanisms. All Rensselaer graduates will have those skills."
A "data-intensive sequence" requires all students to complete two "data-intensive" courses; one to establish the foundations of data modeling and analysis, and a second within their academic discipline. Rather than increase the overall number of credit hours students must earn, curriculum on data awareness and exposure will be infused into existing courses that will be designated as "data-intensive." Building on concepts introduced as part of a National Science Foundation (NSF)-funded pilot program, Rensselaer has also developed new courses and opportunities for students who wish to explore data-driven study, such as a data-centric laboratory experience that connects teams of students with industry partners to tackle a data-intensive problem.
The new core curriculum ensures that Rensselaer graduates are creative and critical thinkers who can marry disciplinary expertise with interdisciplinary collaboration. In addition to the "data-intensive" requirement, the new core includes a new requirement for co-curricular activities such as capstone projects within the disciplinary majors, and a Rensselaer enrichment core, including a common reading experience, an away experience, and co-curricular academic and cultural activities, as well as revisions to existing "communication-intensive" requirements and flexible science, humanities, and social sciences course requirements.
"At Rensselaer, we believe that the ability to manage and exploit data is a fundamental skill that all of our graduates should possess," says Prabhat Hajela, provost. "We educate our students to be leaders in whatever endeavor they seek to pursue, and dexterity in handling large and diverse datasets will be a critical component in their success."