Athletics
The Healing Team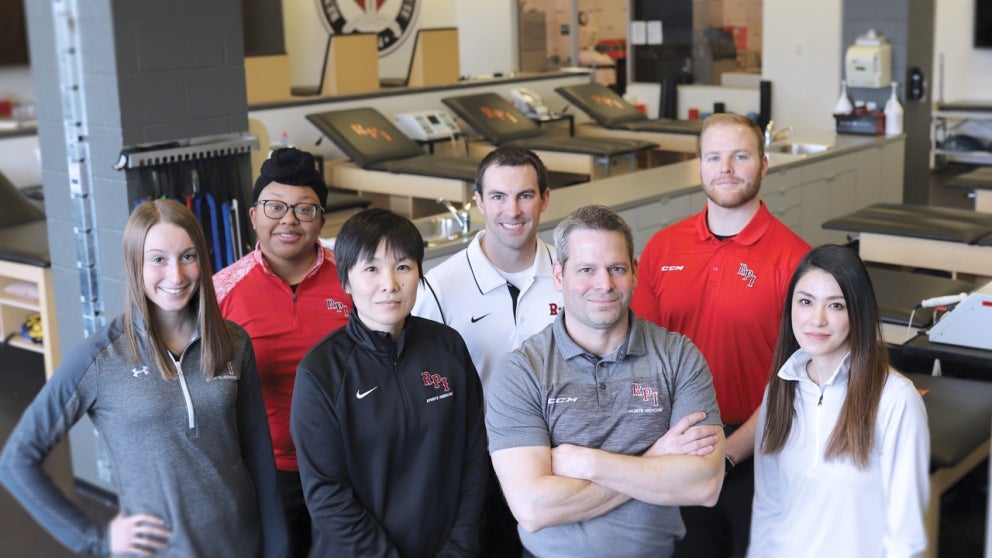 By Kevin Beattie
It was a second-half pass that gave the women's lacrosse team an 11-5 lead in a Liberty League game and etched Liz Brady's name in the program's record book. She had just earned her 32nd assist of the year, a new single-season standard, and she and her teammates celebrated on Renwyck Field. The Engineers went on to win that game 14-10 over St. Lawrence before concluding the campaign three days later in the playoffs.
A member of the Class of 2020 who plays attack for the Engineers, Brady finished with 36 assists in 14 games, statistics that not many would have predicted given she missed the entire 2018 campaign following a torn anterior cruciate ligament (ACL) in her right knee on the second day of practice.
Having had surgery on her left knee following an ACL tear during high school, Brady knew it would take grit, determination, and hard work to come back to play. What she didn't realize — but quickly found out — was she would not have to go through the necessary, oftentimes grueling, rehabilitation alone. She, like all Rensselaer student-athletes, would have a team of athletic trainers every step of the way. As the Institute's sports medicine staff does, they would be there for her to guide, push, listen, and console, and to cheer her on.
"I have become really close to the athletic trainers," says Brady, a biomedical engineering major. "The rehab is much more athletically based than what I had gone through, and much more strenuous. I did therapy five days a week and developed great relationships with CT and the rest of the staff, as well as the strength and conditioning coaches."
"CT" is Chris Thompson, the head athletic trainer, who supervises a staff of six assistant trainers, all of whom are certified by the National Athletic Trainers' Association. The team of seven reports to Dr. Les Lawrence, the executive director of the Institute's health center.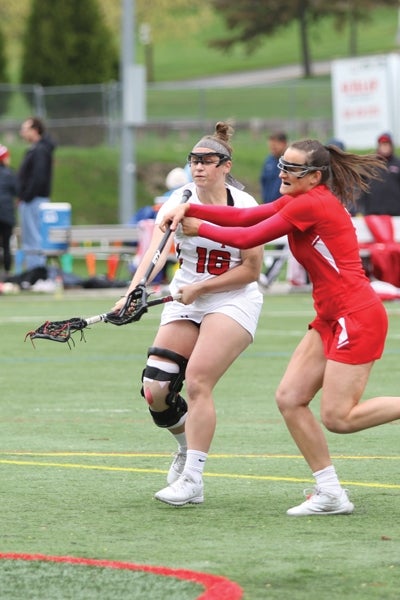 "Liz was awesome about getting her rehab done," says Thompson, who joined Rensselaer as an assistant athletic trainer in the summer of 2001 and was named head trainer in August 2012. "She was beating down the door to get in the room to get better."
The spacious, state-of-the-art sports medicine suite in the East Campus Athletic Village Arena is the premier facility of its kind in the Northeast. It features all the necessary amenities collegiate athletic trainers require as well as eight treatment tables, four taping stations, cardiovascular equip-ment, hot/cold baths, and a SwimEx hydrotherapy pool. It also includes three offices and a treatment room, allowing for the staff to treat nearly 600 student-athletes efficiently and effectively.
"The upgrade in the size of the room from the Armory and '87 Gym helps tremendously with the number of student-athletes we can treat simultaneously," Thompson says. "Having the cardio equipment in the space and being connected to strength and conditioning allows the student-athletes to get treatments done efficiently, but also helps keep them with their teams even when they cannot compete. It is huge that we can treat them like athletes and not like patients."
The sports medicine suite is open to student-athletes for 13 hours per day during the week and before and after each team's practices. There are also recovery hours on the week-ends. Thompson and his staff take great pride in being the standard-bearers among Liberty League schools — and on par with ECAC Hockey schools — in terms of what robust services they provide to the student-athletes.
"Trust and relationships are big, obviously," says Thompson, noting that every student-athlete has access to his staff's cell phone numbers and can contact them with questions or concerns at any time. "The type of relationship you have with an individual is really up to the student, but we are available continuously and always willing to put the time in."
Brady, who was named one of three Capital District Sports Women of the Year earlier this spring, discusses her experience as a student-athlete on episode 3 of the RPI Athletics Podcast.