Making a Difference
Driving Forces for Supporting Health and Wellness
Dr. John D. Bennett '74, MD, FACC, FACP, has been a longstanding partner in preserving and promoting the health and wellness of students, faculty, and staff. As president and chief executive officer of the Capital District Physicians' Health Plan Inc. (CDPHP), Bennett has championed health and wellness initiatives across campus in more ways than one.
To encourage an active and healthy lifestyle, CDPHP partnered with Rensselaer on the launch of the CDPHP Cycle! Access program, which gives students, staff, and faculty free memberships to the Capital Region's bike-share program. Members of the staff and faculty community also participate in CDPHP's annual Workforce Team Challenge event, which benefits local charities as well as its runners and walkers.
Additionally, employees who are CDPHP members benefit from an award-winning holistic health insurance plan committed to the health, safety, security, physical and mental well-being, and quality of life of the community it serves.
Bennett's team at CDPHP and Rensselaer faculty have also joined forces in a research initiative to better understand the best approaches to identify at-risk patients, and develop strategies that will improve their health. Using artificial intelligence and a "cadre" modeling technique, the team is able to distinguish high-needs patients and why some people respond well to treatments while others do not. The findings will offer physicians an explanation for why certain patients may continue to face health challenges and point to interventions and services that will improve their health. 
"Universities are highly complex institutions," said Bennett at President Jackson's 20th anniversary celebration last October. "They serve an array of communities and stakeholders; their missions are multifaceted; and the call to be flexible and adapt to change in a complex global environment is continuous. CDPHP is incredibly grateful to not only support this campus with the highest level of health care, but we are thankful to call Rensselaer a true partner."
Bennett joined the Rensselaer Board of Trustees in March.

Campus Fitness Connection
In 2000, longtime supporter and Institute Trustee Nancy Mueller generously funded the development of the Mueller Center named after her late husband, Glenn M. Mueller '64. The Mueller Center is an on-campus fitness center that provides the community with a 32,000-square-foot space to sustain an active lifestyle with over 40 aerobic machines and fitness classes — and more than 5,000 people coming through the doors each week.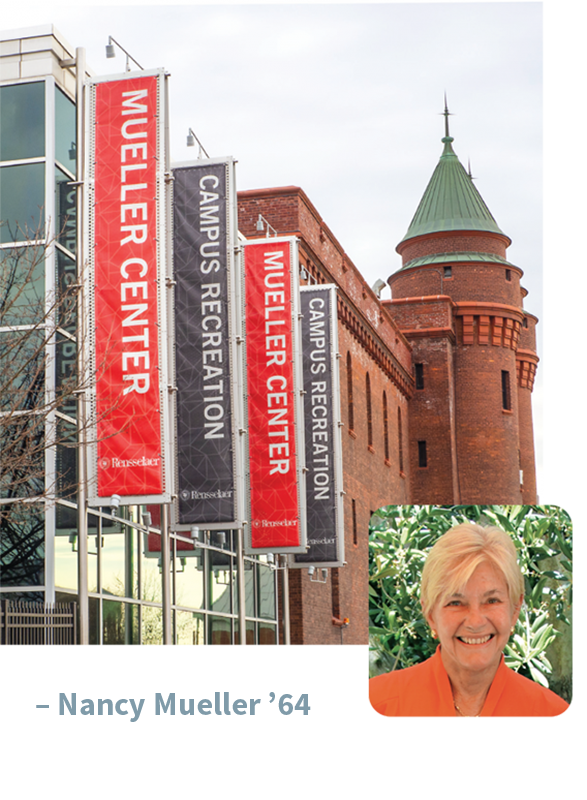 The Mueller Center, celebrating its 20-year anniversary in May, coordinates intramural sports including basketball, soccer, softball, and volleyball connecting nearly 6,000 community members annually. Partnering with departments across campus, the Mueller Center offers graduate outdoor recreation programs and trainings to increase outdoor recreation opportunities across campus, which has over 400 participants.
Mueller has also supported the well-being of incoming students for many years. Each summer she hosts nearly 100 alumni, alumnae, and current and incoming students and their families at her home in California. The annual garden party welcomes incoming students, and gives them the opportunity to meet members of the community, and learn about the many opportunities available to students at Rensselaer.
"In honoring the memory of my late husband, Glenn M. Mueller, with the Mueller Center, thousands of members of the Rensselaer community have had the opportunity to maintain a healthy lifestyle and commune with like-minded participants," says Mueller. "This has hopefully fostered good will and bonding and integrated constituents in a beneficial way. Socialization and camaraderie are as important as the educational component of the Rensselaer experience in building well-rounded life skills. It thrills me every time I come to RPI for board meetings to visit and drive past the Mueller Center viewing energetic people inside 'going good' for themselves. Bravo!"
Arts in Education
Last October, thanks to the support of Cindi and Curtis Priem '82, P'22, trustee, Rensselaer established a new partnership with artist Josh Groban and the Find Your Light Foundation to provide opportunities for students of all ages to receive a quality arts education. Seeing overall arts education programs cut in half over the past 20 years, and virtually decimated in low-income communities where the academic benefits of arts education are the greatest, the Groban Family founded the Find Your Light Foundation to support arts in education.
"So many schools are just worried about the left side of the brain that we're forgetting about everything that makes the person whole," says Priem. 

"I am a product of public arts education," says Groban. "I experienced firsthand how life-changing it can be to be surrounded by kids who all have the same passion and vision for the arts. I was a kid who was struggling in other areas. Coming to a program where I was able to be around other kids and to be a part of the arts — and to be able to express myself for the first time — was exactly what I needed."
Groban was recognized as a Presidential Lifetime Achievement awardee at the Coast to Coast East: Rensselaer Scholarship Dinner in October. After dinner, students in the Rensselaer Chorus and Orchestra performed on stage with him at EMPAC. More than $1.2 million was raised through this event, with proceeds benefiting both student scholarship at Rensselaer and the Find Your Light Foundation.