Alumna Profile: Areeg Khalil '17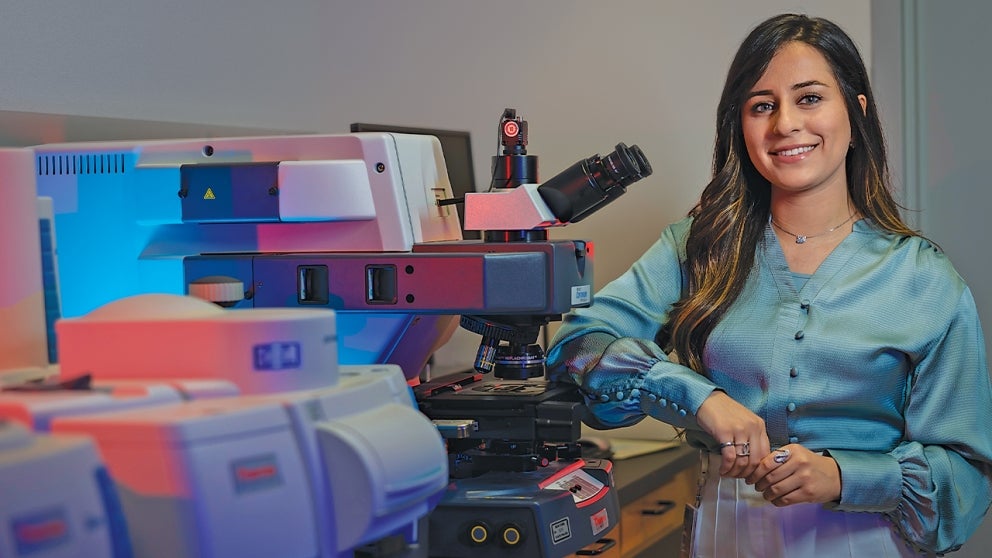 As she was watching Dateline every Friday night in high school, Areeg Khalil '17 never expected that less than 10 years later, she would be a forensic scientist III at the New York State Police Forensic Investigation Center (FIC). "I love these shows about crime and all of that, but I never thought that I would be this close to forensics," she says.
At 25, Khalil is the fastest rising forensic scientist in the FIC's history. She joined the group in 2018, working on DNA casework, after a stint at MIT's Lincoln Laboratory. Today she is the approver for all trace evidence units as well as all arson reports.
"You don't realize this, but you could be sharing skin. Some of your hair could be falling out. Or parts of your clothes, like fibers," Khalil explains. "The principle is that every contact you make would leave a trace and that's what we look at."
The FIC has invested nearly $7 million in state-of-the-art equipment for Khalil's lab, which is the only trace section for the New York State police laboratory. She is one of four analysts and focuses mainly on arson analysis and "forensic unknowns."
​​​​​As a chemical engineer, she is a rarity among forensic scientists, who typically have a chemistry background. She says her engineering coursework helped her develop skills in troubleshooting and solving problems that she uses on a daily basis.
"The principle is that every contact you make would leave a trace and that's what we look at."

Khalil transferred to Rensselaer from Hudson Valley Community College (HVCC), after spending two and a half years working in the lab of Wilfredo Colon, professor and head of chemistry and chemical biology. She took part in the Research Internship for Community College Student Engagement (RISE) program. Khalil attended the RISE program the summer after her senior year at Troy High School, and continued throughout her two years at HVCC. She credits her time in Colon's lab as formative training that she still applies today.
"Areeg is arguably the best undergrad to work in my lab in the 24 years I've been at RPI," says Colon.
Khalil, who was born in Basrah, Iraq, is proud to come from a family of Rensselaer graduates. She says there was a healthy competition among the siblings who helped push her to succeed academically. "The setting in the school is competitive and challenging in a good way. It shapes you for whatever career you go into. But I have a very special connection, because it makes me feel like I walked in the same steps as my father and my brothers. It holds a very special meaning in my home."
Brother — Omar Khalil '11 received a bachelor's in electrical engineering. He died in 2019. "He was very supportive of me going to RPI. I thank God that he was able to go to my graduation. I will always hold that memory," says Khalil.
Brother — Yaser Khalil '16 received a bachelor's and master's in mechanical engineering.
Father — Ali Mohammed Khalil '86 received a doctorate in economics.