Controlling COVID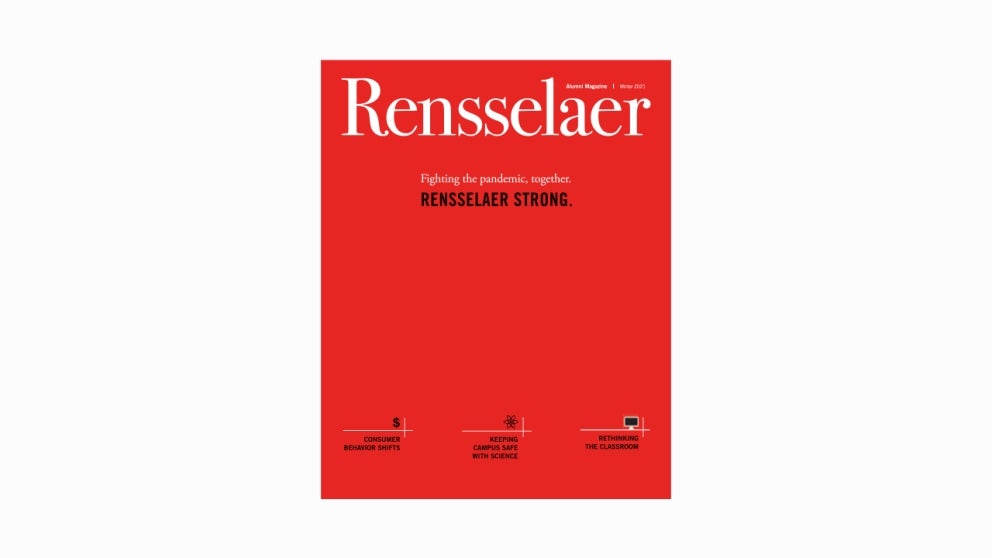 I just finished reading the winter 2021 edition and thought it was fantastic! I loved reading about how the school has responded to the pandemic, both in terms of research and in terms of controlling the spread of COVID-19 on the campus. The magazine is great and I read each issue cover to cover. Thank you for bringing us a great magazine.
— David Connor '16 | Troy, New York
Go, IT Program!
I cofounded Jeeves — a company that brings together global finance and technology for businesses — and recently, we raised $131 million for the business from Y Combinator, Andreessen Horowitz, and other prestigious investors. At RPI, I studied IT and finance, and got my career started at J.P. Morgan right after graduation. At Jeeves, we're building the future of finance, and both the Lally School (finance) and the information technology (IT) program helped shape my early experiences in fintech entrepreneurship. I hope this helps students at RPI become inspired by the possibilities!
— Sherwin Gandhi '04 | Austin, Texas
Class Notes Input
Kudos to the Alumni Relations office for another excellent emailed news report and, especially, for the inclusion of a link to the truly outstanding winter 2021 edition of the Rensselaer alumni magazine. I had no idea that the Class Notes section was active and open for input from alumni. I am glad to see that it is alive and well.
— Richard Felak '66, M.S. '67 | Schenectady, New York
A Glorious Finish
I am a recipient of Rensselaer alumni magazine, and have been for decades. I find the stories to be fascinating, relevant, and often inspirational. My time at Rensselaer ended memorably as well. I recall my graduation day quite clearly. A lovely May day in 1985 in the old hockey rink. We were all quite excited because we were graduating, but nervous as well for what the future would hold. We architects, always trying to be different, wore "pencil hats" on our heads, making us quite noticeable to our fellow graduates. This day was momentous as well because we had just won the national hockey championship a day or two earlier. And then, amazingly, just two or three days after graduation, I was sitting back home at my parents' place on Long Island — watching hockey, of all things — and there was Adam Oates '85 starting for the Detroit Red Wings. In fact, if memory serves, he scored a hat trick in his very first game. I then learned that George Servinas '85 had also not only signed up for, but was already playing in the NHL. These were guys who I sat next to in Psych 101 with Professor Douglas! Oates went on to have a major career and became one of the greatest players of all time, and Servinas had a pretty memorable career as well. A glorious finish to my years in Troy. (Read about a recent project by Adam Kushner.)
— Adam Kushner '85 | Manhattan, New York