President's View
Developing Sustainable Solutions for the Future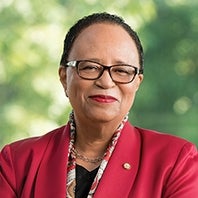 As the global population continues to increase each year, bringing together the greatest minds to address the critically important issues of sustainability, energy, and health has become even more vital.
In this issue of Rensselaer magazine, you will read about efforts underway across the campus that are driving research essential to making the technological and societal improvements necessary for all of us as humans to thrive on this planet.
On April 23, I joined a host of world leaders at the White House Leaders Summit on Climate hosted by President Joe Biden. There, I announced the launch of the new Rensselaer Institute for Energy, the Built Environment, and Smart Systems (EBESS).
Formed in initial partnership with Siemens, Lutron Electronics, Brooklyn Law School, the building engineering consulting firm Thornton Tomasetti, and the international architecture firms HKS, OBMI, and Perkins&Will, the New York City-based institute will use the most advanced digital technologies to drive decarbonization of urban environments at the systems level.
Universities are the crossroads for collaboration across disciplines, sectors, geographies, and generations. An integrative approach is required to decarbonize the many interconnected systems of our daily lives.
"Universities, such as Rensselaer Polytechnic Institute, are crucial in developing and incubating new technologies required for a net-zero world."
EBESS will draw from the expertise of researchers and faculty in many of our research centers to link architectural design and engineering to create infrastructure that is both net-zero in energy use and climate resilient.
Energy storage is also a fundamental global challenge, exacerbated by our growing reliance on laptops, cell phones, electric vehicles, and new solar technologies. The research taking place in the laboratory of Professor Nikhil Korakar, the John A. Clark and Edward T. Crossan Chaired Professor of Mechanical Engineering, is transforming lithium-ion batteries to make them safer, more cost-effective, more efficient, and greener.
He and his team are also exploring alternatives to lithium that could upend the way we view energy storage in the future.
Researchers at the Institute are also pushing the boundaries of research into the brain, a complex organ with many unsolved mysteries. Teams are devising ways to vastly improve surgeons' training and skills, developing a better understanding of the impacts of stress on cognitive function, characterizing cognitive biases to learn how they influence final decisions, and dissecting how decisions are made.
Rensselaer was founded in 1824 with the mission of "applying science to the common purposes of life." We have remained true to that mission, and as we approach our bicentennial and look ahead to our third century, the groundbreaking, world-changing work of our faculty, staff, and students takes on even greater urgency.