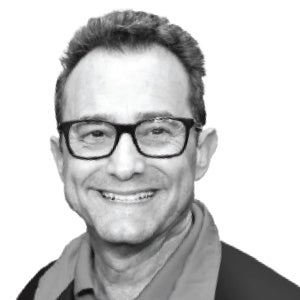 Transformative Campaign Update
As we look to our third century, Rensselaer continues to play a transformative role in addressing global challenges and opportunities, shaping a brighter future for our students, and affecting positive change around the world through Transformative: Campaign for Global Change. More than 174,016 gifts have been made by 34,428 donors during the course of the campaign, helping to surpass the halfway mark of the $1 billion goal. Gifts provide funding for student scholarships, faculty support, and campus enhancements.
Join us to secure the future of Rensselaer, and guarantee a world-class education for generations to come.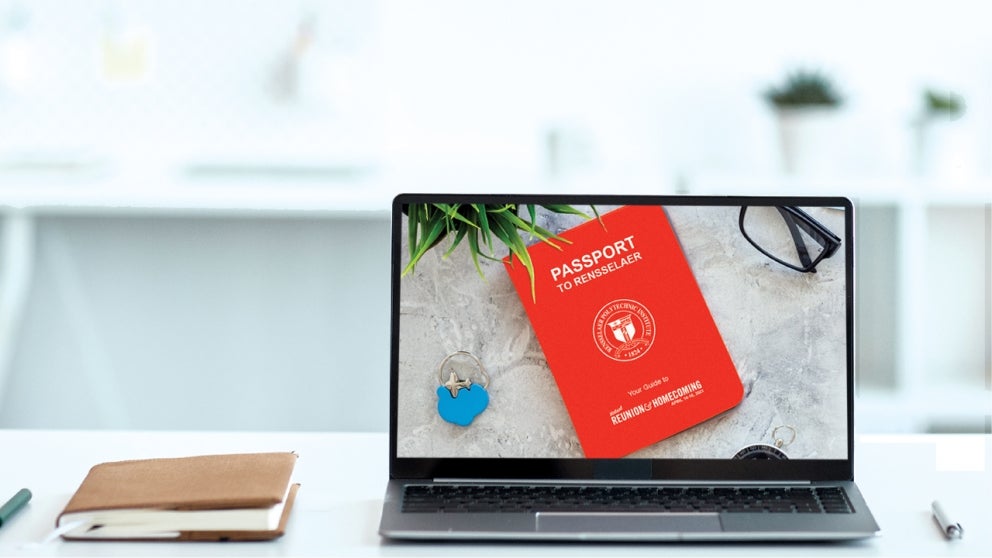 New Traditions
For the first time in Rensselaer history, a virtual Reunion & Homecoming was held this past spring and fall due to the pandemic. With the inaugural virtual Passport to Rensselaer, participants were able to experience the campus through a variety of online resources.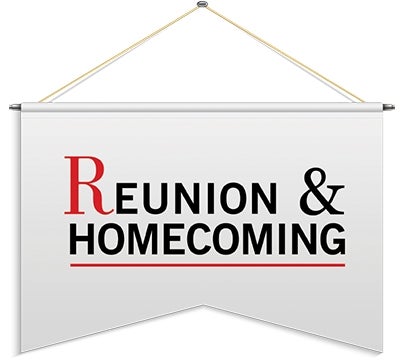 Through a series of video messages, links, and other resources, they were able to "visit" the five schools and several research centers. Attendees could also participate in online events, including the Presidential State of the Institute Address, the Presidential Global Game Changers Panel Online featuring alumnae leaders, and the CLASS Alive! student panel, all while connecting online with classmates and friends.
To download your virtual Passport, visit reunion.rpi.edu.
The Power of Volunteer Networks: Rensselaer Executive Councils  
New Regional Executive Council Developed in Capital Region 
Amid the challenges brought on in 2020 due to the global pandemic, alumni and alumnae who are leaders, innovators, and influencers who call New York State's Capital Region home stepped up to establish the new executive council in the university's "home base."
The Rensselaer Capital Region Executive Council was established in 2020, joining four other councils in the Silicon Valley, New England, Greater New York, and Texas Triangle regions, where there are large concentrations of active alumni, alumnae, and parents. Each council's primary goals involve participating in philanthropy, helping identify, cultivate, and recruit new council members, and supporting, and encouraging support for the pillars and priorities of the Transformative Campaign. Collectively, members of the five councils number 42, together raising more than $7.4 million in support of the campaign. The councils have truly strengthened the partnership between members of the Rensselaer community and the Institute.
Council members lead conversations and events that align with the Institute's expertise in interdisciplinary research and pedagogy, as well as encourage philanthropic support. In October 2020, the Capital Region Council, in collaboration with the Executive Leadership Team, jumped right in with implementation of the inaugural Virtual Auction. Thanks to the work of the team, led by Event Chair Dr. John Bennett '74, more than $25,000 was raised in support of student scholarship from the auction alone.
The Council then hosted its first-ever Presidential Global Game Changers Panel Online during the virtual Reunion & Homecoming last April, featuring a moderated discussion by President Shirley Ann Jackson on the changing nature of work and leadership, with council member Mary Humiston '90, MBA, and Susana Navarro-Valenti '88G, '92 Ph.D., P'16. 
The Rensselaer Capital Region Executive Council looks ahead to future virtual and in-person auctions and events, while building its membership in the Capital Region.
For more information, visit giving.rpi.edu/regional-networks/capital-region.
Capital Region Executive Council
Council Co-Chairs:
John Bennett '74, MD, FACC, FACP; Member, Board of Trustees; President and CEO, CDPHP Inc.
Mark M. Little '82, Ph.D.; Member, Board of Trustees; Former SVP and Director, GE Global Research
Daniel T. Pickett III '90; Member, Board of Trustees; Co-Chair, Transformative: Campaign for Global Change; Cofounder, President, CEO, aptihealth
Vice Chair:
Curt Breneman, Ph.D.; Dean, Rensselaer School of Science
Members:
Mary Humiston '90, MBA; Chief Human Resources Executive
Pankaj Patel '90, MBA; Managing Director, Head of Quantitative Research, Cirrus Research, LLC
Michael Uccellini '02, MBA; President, CEO, United Group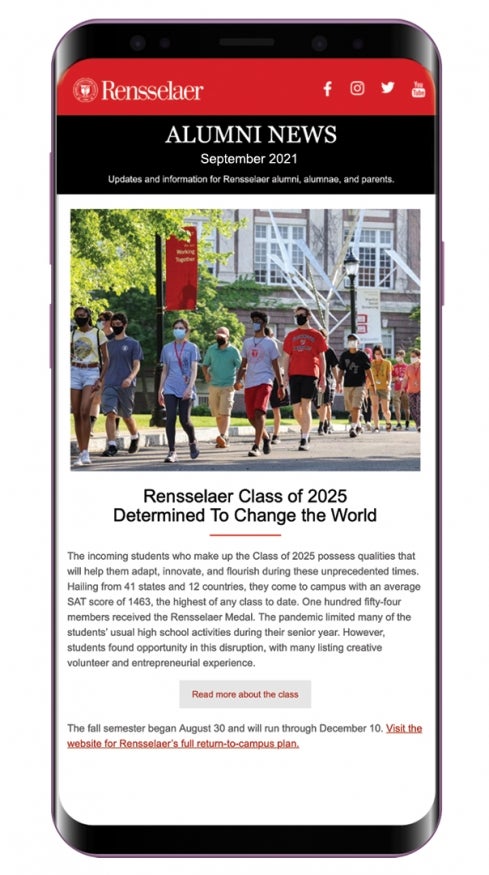 Stay Connected
The Alumni Email Newsletter is distributed each month to all alumni/ae and families of current students. The newly refreshed format includes Institute news, events and updates, research initiatives, alumni services, and more. It's a great way to stay connected with the Institute and with your fellow classmates!
If you are not currently receiving the newsletter, we may not have your current email address. Don't miss the next issue!
To update your contact info, visit alumni.rpi.edu or email AlumniUpdate@rpi.edu. Please include your name, class year, and degree or major.