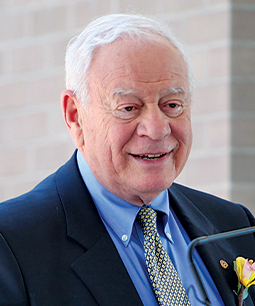 Howard N. Blitman '50
Howard N. Blitman '50 died on Jan. 3, 2021, at the age of 94. A strong supporter of Rensselaer, he served on the Board of Trustees for many years.
For more than 65 years, Blitman was an extremely generous and involved alumnus and supported a number of key initiatives under The Rensselaer Plan. In 2009, he renovated a former hotel in downtown Troy into a new residence hall for undergraduate students, which was named the Howard N. Blitman, P.E. '50 Residence Commons, in his honor. He was a member of the Stephen Van Rensselaer Society of Patroons and the Heritage Society, and served as a member of the advisory boards for the Department of Civil Engineering and the School of Humanities, Arts, and Social Sciences.
In recognition of his contributions to his alma mater, and his great generosity, Rensselaer bestowed upon Blitman the Alis Aquilae Medal (2007), Distinguished Service Award (2006), Alumni Fellows Award (2002), the Albert Fox Demers Medal (1997), and the Alumni Key (1991).
We honor the contributions Howard Blitman made to both the Rensselaer community and to the world.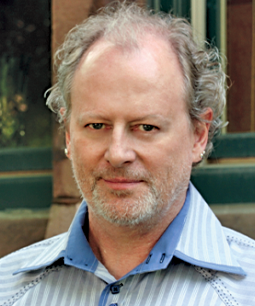 Professor Peter Fox
Peter Fox, Tetherless World Constellation Chair, director of the Information Technology and Web Science program, and professor of earth and environmental sciences, computer science, and cognitive science, died on March 27, 2021. He was 61.
Those who worked with him at NASA's Earth Science Data and Information System Project said, "Peter was a proven leader whose innovative drive helped to often illuminate the future of how data and information can be turned into insight and knowledge."
A former ESIP executive director described Fox as "a brilliant man, one who had clarity about everything that had his attention," and said he was "exceptional in every sense of the word — intelligent, compassionate, talented, thoughtful, generous, stylish, and funny. The world is a better place because of his contributions."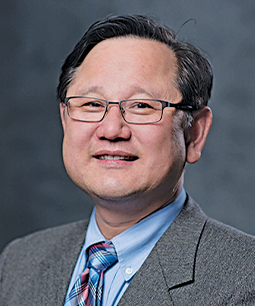 Professor Chang Y. Ryu
Chang Y. Ryu, professor of chemistry and chemical engineering and the director of the New York State Center for Polymer Synthesis, died on July 18, 2021 at the age of 53.
Ryu was passionate about education and regularly taught courses to freshmen, juniors, and seniors. He mentored scores of students as a research or academic adviser throughout his 21 years at Rensselaer. Whether in the classroom, his laboratory, or his office, Ryu had a significant impact on the education and career path of many students.
Ryu had over 70 research publications, was co-editor of the book Sustainable Polymers from Biomass, and presented his work both in the U.S. and South Korea. Ryu was also very active in service to his profession as a member of the American Chemical Society's Division of Polymeric Materials Science and Engineering and the American Physics Society's Division of Polymer Physics.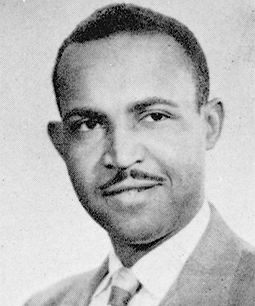 Charles I. Cassell '51
Rensselaer Alumni Hall of Fame member, pioneering African American architect, and civil rights activist/leader (1924 – 2021)
Charles Richardson (Dick) Moffatt '41, B.S., Mechanical Engineering
James Bryce '44, B.S., Industrial Engineering
Herbert O. Asbury '45, B.S., Aeronautical Engineering, '48, MAE, Aeronautical Engineering
Rolf Ochsner '46, B.S., Mechanical Engineering
Donald Vandenburgh '47, B.S., Mechanical Engineering
Peter Gross '47, B.S., Chemical Engineering
Philip W. Clarke '47, B.S., Electrical Engineering
Donald Harrington '47, B.S., Aeronautical Engineering, '48 BAE, Aeronautical Engineering
Michael DiZio '48, B.S., Aeronautical Engineering
Samuel Lapkin '48, B.S., Chemical Engineering
Jerome M. Seaton '48, B.S., Aeronautical Engineering
Frank Tobakos '49, B.S., Mechanical Engineering
Donald T. Birkmayer '49, B.S., Management Engineering
Edwin "Skip" Lester '49, B.S., Electrical Engineering
Robert Stevens '50, B.S., Chemical Engineering
Howard Blitman '50, B.S., Civil Engineering
Donal Levitt '50, B.S., Mechanical Engineering
Irma Sandra Shaler '50, B.S., Mechanical Engineering
Martin Schneider '50, B.S., Electrical Engineering
Richard Reddy '51, B.S., Physics; '54, M.S Metallurgical Engineering
Benjamin Jackson '51, M.S., Biology
Charles Cassell '51, B.S., Architecture
John Crecca '51, B.S., Chemical Engineering
Carleton DeWitt '51, B.S., Electrical Engineering
Donald Dilliplane '51, B.S., Mechanical Engineering
Norman Epstein '51, B.S., Management Engineering
William Kelleher '51, B.S., Civil Engineering
Ernest Lademann '51, B.S., Electrical Engineering
Edwin Von Essen '51, B.S., Electrical Engineering
John Courtright Custer '51, B.S., Mechanical Engineering
Richard Reddy '51, B.S., Physics, '54, M.S., Metallurgical Engineering
Sven Aage Sealander '51, B.S., Chemical Engineering
Bruce Wilcox '51, B.S., Aeronautical Engineering
George Fallati '52, B.S., Management Engineering
Howard Popper '52, B.S., Electrical Engineering
Paul Totta '52, B.S., Metallurgical Engineering
Francis Keegan '52, B.S., Chemical Engineering
Bruce Knox '53, B.S., Chemistry
Tom Toy '53, B.S., Architecture
Wally Mueller '53, B.S., Electrical Engineering
David Leo Tondreau '53, B.S. Management Engineering
Arthur Burrill '53, M.S., Chemistry
Augustus Cutler '53, B.S., Mechanical Engineering
Jim Ferguson '53, B.S., Biology
Gordon Kilby '53, B.S., Civil Engineering
Samuel Wait Jr. '53, B.S., Chemistry; '55, M.S., Chemistry; '56, Ph.D., Chemistry
Ivan Stern '54, B.S., Aeronautical Engineering; '57, M.S., Aeronautical Engineering
Joseph LeBlanc '54, B.S., Management Engineering
Charles Ritter '54, B.S., Mechanical Engineering
Joseph Sabatella '54, B.S., Aeronautical Engineering; '58, M.S., Aeronautical Engineering
Kornelis (Neil) Smit '54, B.S., Management Engineering
Ivor Preiss '55, B.S., Chemistry
Michael Turkovic '55, B.S., Electrical Engineering
Richard Welter '55, B.S., Mechanical Engineering; '59, M.S., Management
Helmuth W. "Dutch" Schultze, Ph.D., '55, Ph.D., Chemistry
Joel Godston '55, B.S., Aeronautical Engineering; '62, M.S., Engineering Science
Toby Nadel '56, B.S., Architecture
Raymond Frenz Jr. '56, B.S., Civil Engineering
Richard Doviak '56, B.S., Electrical Engineering
Ron Neaton '56, B.S., Metallurgical Engineering; '63, M.S., Metallurgical Engineering
Augustine Albanese '56, M.S., Electrical Engineering
Alfred Broch '57
Robert Eisenhard '57, B.S., Geology
Edward Prescott '57, B.S., Electrical Engineering
Noel Desch '57, M.S., Civil Engineering
Edward Kobee '57, B.S., Physics
Issam Minkarah '57, M.S., Civil Engineering; '63, Ph.D., Civil Engineering
Kenneth Wiman '57, B.S., Civil Engineering
Joseph A. (Bert) Ryburn '57, B.S., Metallurgical Engineering
Dr. Ira Wexler '57, B.S., Physics
Carl Dean Lundin '57, B.S., Metallurgical Engineering; '66, Ph.D., Metallurgical Engineering
Donn C. Lounsbury '57, B.S., Chemical Engineering
Frederick Best '58, B.S., Chemical Engineering
Thomas Grady '58, B.S., Electrical Engineering
David Moore '58, B.S., Chemical Engineering
Joseph Travers '58, B.S., Aeronautical Engineering
Richard Bratton '58, B.S., Architecture
Ross Sinclair Cann Sr. '58, B.S., Geology
H. Lawrence Hess '59, B.S., Mechanical Engineering; '63, M.S., Mechanical Engineering
Donald Rickert '59, B.S., Physics
Victor J. Pecore '59, B.S., Chemical Engineering; '65, M.S., Management; '70, Ph.D., Management
Joseph William Rezek '59, B.S., Civil Engineering
Duane L. Stromer '59, B.S., Civil Engineering
Richard H. Rapp '59, B.S., Physics
Thomas E. Johnson '60, Geology
Wesley Tervo '60, M.S., Mechanical Engineering
Carmen Cusano '60, Ph.D., Chemistry
Elia Mottola '60, B.S., Mechanical Engineering
Mete Nakiboglu '60, B.S., Mechanical Engineering
Eric Nielsen '60, B.S., Electrical Engineering; '62, M.S., Electrical Engineering
Neeli Soundararajan '61, M.S., Electrical Engineering
Donald R. Gaylord '61, B.S., Chemical Engineering
Roy V. Bunting '61, B.S., Management Engineering
John Billingsley Jr. '61, B.S., Chemical Engineering; '62, M.S., Management Engineering
Charles Close '62 FE; '62, Ph.D., Electrical Engineering
Dr. Robert Athanasiou '62, B.S., Electrical Engineering; '65, M.S., Psychology
Michael Duffy '62, B.S., Metallurgical Engineering
Robert. A. Hall '62, B.S., Civil Engineering; '72, M.E, Transportation Engineering
John Fletcher '63, B.S., Mechanical Engineering
Albert Gran '63, B.S., Biology
Albert S. Bergendahl '63, B.S., Electrical Engineering; '65, M.S., Geology; '70, Ph.D., Chemistry
Joseph Scanlon '64, B.S., Aeronautical Engineering
William Stanley '64, B.S., Physics
Paul DeVivo '64, B.S., Management Engineering; '68, M.S., Management Engineering
Richard Hale "Dick" Prosl '64, M.S., Mathematics, '66, Ph.D., Mathematics
Arthur Aronson '63, M.S., Metallurgical Engineering; '65, Ph.D., Metallurgical Engineering
Edwin Schimler '65, M.S., Mechanical Engineering 
James F. Stevenson '65, B.S., Chemical Engineering
William Elliott '66, B.S., Architecture; '67, M.S., Architecture
Robert Bergendahl '66, B.S., Electrical Engineering
Carl Foehrenbach '66, B.S., Management Engineering
Bruce White '66, M.S., Mechanical Engineering
Lt. Col. Raymond L. Bilott '66, M.S., Management Engineering
Richard Lunde '67, B.S., Management Engineering; '68, M.S., Management Engineering
Norman Bolyea '67, M.S., Management Engineering; '70, Ph.D., Civil Engineering
Gregory Condon '67, M.S., Mechanical Engineering
Russell Edmands '67, M.S., Management Engineering
Jerome Kluza '67, M.S., Management
Richard Unger '67, B.S., Civil Engineering
Gerald Cohen '67, M.S., Mathematics
Edward Morgan '68, M.S., Natural Science
James Spain '68, B.S., Management
John R. De Hart '68, B.S., Electrical Engineering
Michael J. Trojan '68, B.S., Metallurgical Engineering
Thomas Seidel '69, B.S., Management
Gary Kreppel '70, B.S., Language & Literature
Gerald Spencer '70, M.S., Management; '97, Ph.D., Materials Engineering
Steven Ball '70, B.S., Aeronautical Engineering; '71, M.S., Aeronautical Engineering
Judy Lieberman Porte '70, B.S., Mathematics
Peter John Turner '70, M.S., Chemistry; '73, Ph.D., Chemistry
John Brockwell '71, M.S., Electric Power Engineering
George Chapek '71, B.S., Mechanical Engineering
Kenneth Noelsch '71, B.S., Engineering Science
Martin Tierney '71, B.S., Architecture
Charles Button '72, M.S., Computer Science
Larry Fairchild '72, B.S., Civil Engineering
Peter Pasch '72, B.S., Engineering Science; '73, M.S., Electric Power Engineering
Wayne Losano '73, Ph.D., Communication & Rhetoric
Richard Hollis '74, M.S., Electrical Engineering
William "Bill" Gambert '74, M.S., Computer Science
Peter I. Rickard '74, B.S., Chemical Engineering
John Lafeyette Green Jr. '75, Ph.D., Communication & Rhetoric
Michael G. Anson '76, B.S., Mechanical Engineering
Daniel A. Guilzon Jr. '76, B.S., Nuclear Science
Warren Nichols White Jr. '77, M.E., Electric Power Engineering
John F. Hennessy III '78, B.S., Mechanical Engineering
Henri Benoit '78, B.S., Building Science; '90, B.S., Architecture
Edward Potter '80, B.S., Management
Michael Mailloux '82, B.S., Electrical Engineering; '84, M.S., Electrical Engineering
Barbara Galli '82, M.S., Management
Mark Suplicki '82, B.S., Chemistry
Steven R. Montambault '82, B.S., Electrical, Computer & Systems Engineering
James Avery '83, B.S., Building Science; '87, B.S., Architecture
Mario Zavarella '84, Ph.D., Urban Environment Studies
Mark W. Berube '84, B.S., Aeronautical Engineering; '85, M.S., Aeronautical Engineering
Thomas Anischik '86, M.S., Management
Debra Goldstein '86; M.S., Management
David Udelsman '87, B.S., Building Science
Roger Hatfield '87, B.S., Materials Engineering
Lawrence J. Polsky '87, B.S., Management
Mangesh Kale '89, M.S., Electrical Engineering
Adam Brockus '96, M.S., Civil Engineering
Peter S. Wilson '97, M.S., Executive MBA
Ronald Drewlany '05, M.S., Management
David Wollyung '10, B.S., Computer Science
Joshua Comer '15, Ph.D., Communication & Rhetoric
Colton Fisher '15, B.S., Aeronautical Engineering; '15, M.S., Systems Engineering & Tech Management
Samuel Katz, Professor in the Department of Geology
Peter K. Lashmet, Professor of chemical & environmental engineering